Welcome to the Village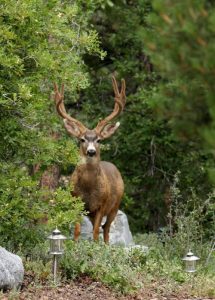 Castle Pines Village is a gated, covenant controlled, residential community managed by a homeowners association, featuring two Jack Nicklaus signature golf courses, and situated 25 miles south of Denver, Colorado. The Village lies at an elevation of 6,000 to 6,500 feet along the Front Range of the Rocky Mountains. It is a compelling landscape of castle­like rock formations punctuated with pine trees at the crest of the divide between the Denver Basin to the north and dramatic rock formations, rock ledges and outcroppings to the south. It is the northern­most incidence of tablelands along the front­range with spectacular views of Pikes Peak, Mount Evans and the Rocky Mountains.
The founders of Castle Pines Village recognized that the Village was a very special place. They understood the value of this land, its unique and natural beauty, the quiet forested mountain setting, the privacy, the near and distant views, the beauty of the native plants and the abundance of Colorado wildlife. They felt the land should be developed in a manner that would not only create a high­quality residential community with world­class golf courses, but their vision included a carefully crafted plan to develop the land without destroying this natural environment and its wildlife.
Contact Paula for more information on this fabulous community​!